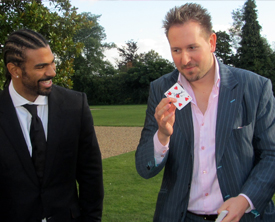 Magician & Mind Reader for Your Event...
Robert Fox's unique brand of magic and mind reading means he is the ideal entertainment at your corporate or private event.
Robert can perform close up, mix and mingle, table to table or on stage at events worldwide including:
Corporate Events, Private Functions, Trade Shows, Dinner Parties, Sports Hospitality, Award Nights, Product Launches, Weddings, Summer Balls, Television & Film and more.
"Brilliant and hilarious" -
David Haye


"Always delightful and superb." -

Barbara Windsor MBE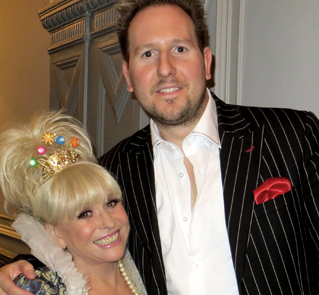 Imagine the look on your guests faces when Robert tells them a name they're merely thinking of, imagine how all your guests will feel when Robert tells them what words or number they have in their mind, imagine how everyone will react when Robert makes a thought transfer from one person to another. Wouldn't all that be amazing at your event?
Robert also performs the more conventional close-up magic using cards, coins and objects. Changing £5 notes into £50 notes, making people's rings appear in impossible locations, bending forks like never before seen, removing people's watches without their knowledge and performing award winning card tricks is just a sample of what Robert will bring to your event.
His truly remarkable SKILLS and EXPERTISE mean YOUR EVENT will be REMEMBERED FOREVER!
If you want your event to be uniquely memorable then book Robert now, before somebody else does. The ultimate table magician & close up magician offering mind reading to shock all.
Book Close Up Magician, Table Magician and Mind Reader Robert Fox
CONTACT now to see if Robert is available for your event
Robert Fox has featured on BBC, ITV, Channel 4 & Sky 1 as a Close Up Magician and Table Magician.